The world of Ironman has Mike Reilly and here on the island of Hawai'i, we have Eddie O! To my recollection, Edgar "Eddie O" Ombac has been the voice of every race I've been a part of since my first triathlon, the Lavaman.
Whether it's Kona's Jingle Bell 5k or the Hilo to Volcano 50k, Eddie's at the finish line, infusing the athletes with his enthusiasm in the moments before the race starts. And he's still there one, four, even eight hours later, making each of us feel like we just won the Olympics as we cross the finish line.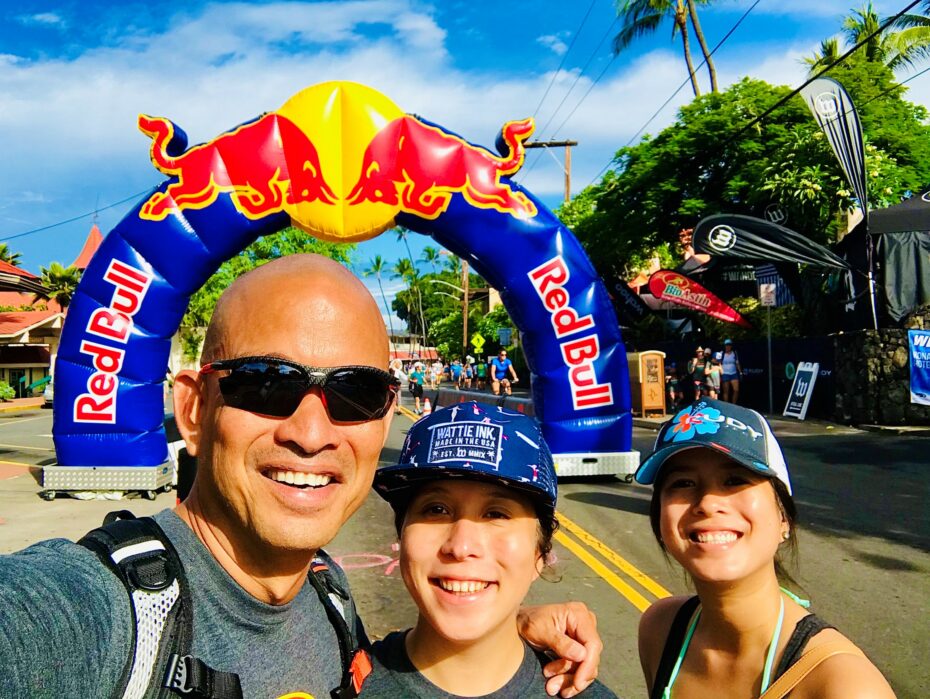 Eddie O's energy is seemingly unwaning. And I suspect that witnessing us finishing what we set out to accomplish actually fuels him! His love for local races and the athletes who compete in them is undeniable, and few know this better than his twin daughters, Katrina and Skye.
"Dad's always been a big fan of races," Skye recalls, "When we were in elementary school, he used to take us to Hawi to cheer for the Ironman athletes at the turnaround on the bike."
"And by the time we were in fifth grade, we started volunteering with Dad at Ironman," Katrina affirms. "We worked at the volunteer tent, feeding them. And there was even a photo of me in the newspaper, pouring Gatorade for the volunteers."
Setting an Example
As much as Eddie is driven by the energy of the racing community, there is a deeper force motivating him to leave his mic at the start line and pin his own racing bib on.
"When the girls were babies, I read a study about how daughters look up to Dads who exercise. They are more likely to be active if their Dad is," explains Eddie. "After I read that, I decided that I needed to set an example for my girls!"
It would be tempting to assume that this decision launched Eddie (or Edgar to his close friends) into an active life. It didn't. Eddie was already there.
Before he was the most in-demand emcee at events and races all over the island, Eddie was just a kid playing soccer in his hometown of Burien, WA. In high school, he was a standout athlete, playing football at John F. Kennedy High School. After getting injured, however, he went out for the track and field team and became a standout in the 110-meter hurdles, going on to place fifth in States.
Although he took a brief hiatus from running, Eddie took it up again while attending college in the Philippines. After graduation, Eddie returned to the states to work for a commercial radio station. But the former radio DJ didn't get into the sport of triathlon until moving to Hawai'i Island to work for KBIG FM.
"KBIG used to cover the Ironman World Championships. So in 1994, I found myself stationed on the Queen K in the middle of the race," Eddie says of the fortuitous day that Ironman first came into his life. It wasn't long before cheering and volunteering at the iconic triathlon became an annual family tradition.
Being involved in sport, however, was far from a once-a-year affair. Fraternal twins Skye and Katrina grew up walking with Mom and biking with Dad. And without fail, Saturday was adventure day.
"I used to bike with Katrina and Skye around Volcano National Park on Saturdays, and when we'd get to the top of a hill, I'd say 'Let's bomb it!' and we'd fly down the hill," recounts Eddie. "One day, we're at the top of the hill and Katrina says 'Dad, can we vomit?'" 
"'What?' I asked. 'Can we vomit it?' she repeated. It took me a moment, but I finally realized what she was asking! 'Sweetie, it's BOMB it, with a B! And yes, we can bomb it!'"
By the time they were in sixth grade, the girls athletic accomplishments included joining Eddie for a 50-mile bike ride. And when they were old enough to participate in team sports, Skye and Katrina became athletes in their own right, with Eddie encouraging his daughters to join Waiakea High School's cross-country team.
Katrina, the free-spirited twin and mermaid of the family, was also on the swim team and water polo team.
"They have to tread water the whole time! When I heard that, I couldn't believe it!" adds Eddie.
The self-professed competitive of the two, Skye also joined the track team. Having completed her first 10-mile road race at 10-years old, it wasn't hard to feel at home among the other runners. With Eddie as her hurdle coach, she even made it to States individually for track in the hurdle event. That was the first time Skye went to States. In her senior year, she made it to States for the 300 and 100 hurdles. 
Bringing out the Crazy
In addition to coaching, Eddie was his daughters' number one cheerleader, all while balancing his job, his own athletic pursuits, and eventually, his charges as highly sought-after race emcee.
"I finished the Kona Marathon, maybe in the late 1990s or early 2000s when it started and finished at Kona's old Keauhou Beach Hotel on Ali'i Drive. I got into that race by promising Sharron Faff that I would emcee at the finish line… After I ran 26.2 miles!" says Eddie of his first of many emcee experiences.
By 2008, Katrina and Skye were able to put everything they'd learned from their Dad about cheering into practice, rooting him on as he raced the Lavaman Keauhou triathlon.
"We were in eighth grade, and I remember walking to KTA with Skye while Dad was on the bike. As a kid, the bike just seemed to take so long!" says Katrina.
Eddie had encouraged his daughters to go out for cross-country, and now it was their turn to return the favor. For years, Katrina and Skye urged their Dad to go after the Ironman dream. And with every race he did, Eddie was closing the gap on that dream. In 2014, he competed in the Hilo to Volcano 50K Ultra Marathon, a 31.1-mile uphill road race. In May of 2015, Eddie finished his first IRONMAN Hawaii 70.3 triathlon. 
"Katrina and I were watching Dad do the Honu 70.3 and all I kept thinking was 'It is SO hot! Dad's crazy'!" Skye says. Despite the heat, however, Eddie completed the race, walking away with a finisher's medal and a slot in the IRONMAN World Championships later that year through the Big Island Drawing. 
After all those years, their Dad had his golden ticket to the big dance. But there was one problem. Skye and Katrina would both be in North Dakota, where they attended the University of Jamestown.
"And it was homecoming weekend!" Katrina laments.
"But we facetimed everyone throughout the day so it felt like we were there cheering," Skye adds. And in their hearts, they truly were.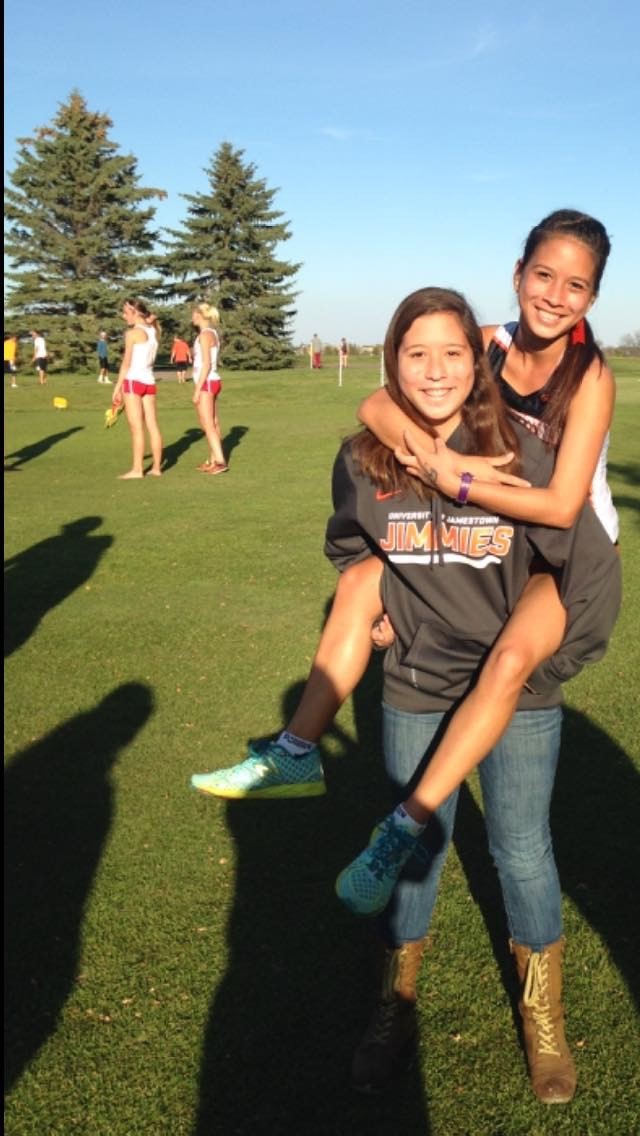 Five years later, Katrina and Skye are back on the Big Island, teaching fifth grade at Honokaa Elementary and Kahakai Elementary, respectively, and proving that they are just as crazy (in a good way!) as their Dad. In the midst of pandemic-related cancelations and shutdowns, Katrina channeled some of Eddie's famed positivity and found the silver lining: Working from home meant that she would not have to commute two hours each day. Katrina chose to use that extra time to workout and swim, this time in the ocean.
"Swimming gives me the time to reflect on my life, whether it's the lessons I'll be doing tomorrow in school or thinking about my grandparents and other deeper things," she says. "One lesson that I've learned from swimming and sport is that it isn't always about the competition. Sure it's fun to win and beat your colleagues, but for me, I've found much more joy in the activity itself!"
She also notes that watching Skye find her own love for the ocean has inspired Katrina to be active and keep up with her own swimming.
Skye also elected to make the most of the lockdown, training for her first 50k. "My daughter is crazy!" Eddie declared on Instagram in May. "She signed up for her first 50K!"
Skye was quick to remind her Dad that she gets the crazy from him. A mere six years after Eddie finished his own 50k, his daughter followed suit. And naturally, Eddie and Katrina were her support crew every step of the way.
"My dad has ridden his bike or followed me around in his van during 5ks, half marathons, and my 50k," Skye affirms. "Katrina and my dad are always there to share positive thoughts, which remind me why I run. Without my cheering squad I feel like I would have quit races or not hit PRs!"
Skye confirms that she has indeed wanted to quit before. "But thankfully, I never have. I would've been more upset with myself if I quit than if I finished slower than I would've liked. In teaching, or in anything I do, I remind myself to keep on going no matter how hard things get. And I remind myself that I'm doing the best I can and quitting is never the right option."
Enjoying Some Friendly Competition
The Ombacs have certainly come a long way since the days of Volcano "vomit" rides. And they've learned a thing or two about supporting each other and staying motivated.
In training, Eddie's intention has always been to instill good values in his daughters and encourage them to have fun. In the case of meets and races, his goal was to be Katrina and Skye's biggest fan! 
"Yeah, I was that dad… The loudest Dad out there!" he concedes. "No matter where or how they finished, I congratulated them for doing their best. That's all you can ask from your child… Do your best! There were a few tears here and there, but the girls always had Dad's shoulder to cry on."
"When it comes to staying motivated, there's truth to the runner's high," Eddie says of finding the drive to run and bike. "And the simplicity of getting on a bicycle brings me back to when I raced BMX and my Redline was my only form of transportation around Burien."
"It's good to feel like a kid again!"
As for his daughters, well, they're driven by the possibility of beating their Dad, among other factors.
"I can beat him swimming," Katrina asserts.
"I'm training for Lavaman. That keeps me motivated!" Skye adds. "That and beating my Dad in the HOKA ONE ONE Off-Road Challenge!"  
"Skye can't beat me!" Eddie exclaims, with what might be a faint hint of fear in his voice.
For all of us Team Ombac fans, we'll simply have to wait until the weekend of November 13th to see how this competition plays out. But you can be certain that no matter who claims the off-road victory, at the end of the day, the Ombac cheering squad will get all the credit.
Want to follow the Ombacs as they train for the Off-Road Challenge? Find them on Instagram: @Edgar_eddieo_ombac, @Skye.ombac, @katrinana_
Want to participate in the HOKA ONE ONE Off-Road Challenge? Click here for early bird registration https://forms.gle/xUaTcdwoL7XXXk5z5
Then follow @BikeWorksKona on Instagram and see our post from 10/24 for more details!
Written by the Bike Works Blogger, Sara Stover
Like this post
60